Causes and effects of the 1948 riot
[ad_1]

---
On 28th February,1948 Gold Coast was shaked by riots as a result of killing of the three ex -service men and other related issues with the intention of fighting against colonial rules.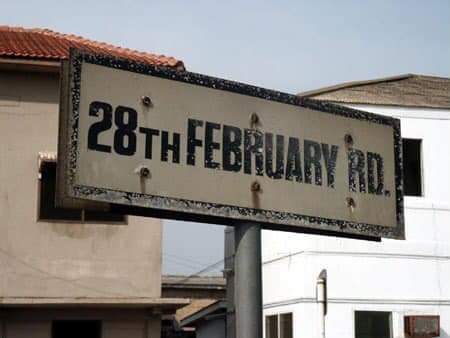 The day took them (British)by surprise as angry Gold Coasters protesting against the hardship rules and treatment by the colonial government.
The educated elites where unhappy with some policies and programs made by the British due to the introduction of the "indirect rule"system which excluded them In the colonial administration whiles chiefs where rather involved and used as the mouthpiece of the British colonial government.
On that day Gold Coasters (Ghanaians) started boycotting foreign foods, destroying European owned businesses on the street of Accra as a result of the following;
The killing of the three ex -service men who went for the second World War II and they were promised to reward after the scene. But the colonial government led by Governor Gerald Creasay failed to fulfil their promise so they took a match to residence of the governor (Osu Castle), when they reached there commander in chief (Commander Emry) ordered his guards to shoot the service men who were shouting and demonstrating for their rewards unfortunately three of them couldn't survived namely,Seargent Adjetey, Corporal Attipoe and Private Odartey Lamptey where killed.
Another causes of of the 1948 riot was the cutting down of Cocoa tree which was affected by swollen pods disease and they (British government) promised to give compensation to the affected Farmers but nothing was done to it and brought some disappointment to the farmers and started voicing out for their compensation.
Economic hardship that is inflation the persistent increase in price of goods and services and shortage of consumer goods are among the causes of the riot.
The 1848 riots brought some positive effects in the country such a the popularity of the "Big Six" . During the riot, the Colonial government arrested some educated elite and leaders of political parties in Gold who where opposition and criticizing the government on certain decision and policies. Upon their release they became popular and tag by the name"the BIG SIX" they were
Dr.Kwame Nkrumah,Ako Adjei,Obetsebi Lamptey, Williams Ofori Atta,J.B Danquah and Edward Akuffo Addo.
It also brought political awareness among the citizens to work as group to fight for a common goal that's to get independence and become a self reliance.
Most of citizens were involved in the colonial government when they setup Coussey Committee to investigate the causes of the riot.
[ad_2]

Source_link